Fighting "A Good War" for Kids means #Voting4Kids this election! 
Opinion by Larry Pegg. The following adds to the original stories published September 8, 2021, North Grenville Times, republished by Toronto Star, Canada-wide Release – Sept. 9, 2021, and  Below2C on September 12, 2021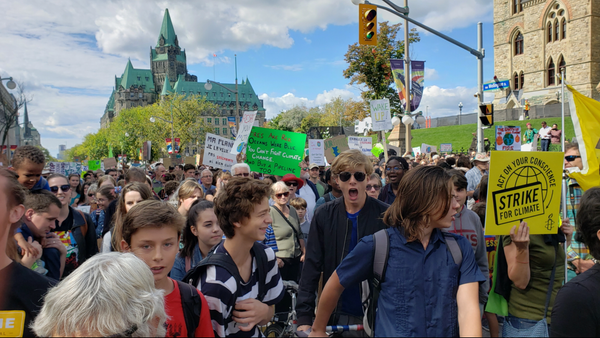 Climate-Anxiety was real in 2019, & Conservatives failed to "show up for kids" at the Global Climate Marches. Now, their Mental Health (election 2021 policy) fails kids again. Time to cut bait for KIDS Future.
How Elders are struggling too?
In this divisive election, hopefully we can all agree that watching our young people struggle with the rising levels of Eco-anxiety & Climate-induced depression is tragic? This relatively new contagion is complex. What they are basically asking for is "an end to the fossil fuel era" and a shift to a new era of clean energy. That causes confusion for all of us, mainly because it's linked to so many aspects of our everyday comfortable lives. We cannot even begin to imagine detaching from carbon. Didn't we fight for all of these consumer rights to expend at will?
The first step in this "kid-first equation" is "it's not about us anymore". Is it fair to say that we "boomers/older generations", have become the needy old children in the room? No matter the answer, I'm up for the challenge. Firstly, it keeps me young. Second? "Who says an old dog can't be taught new tricks"? 
Yup! This new crisis for kids is overwhelming for most elders, but as I see it, we have choices. One is just carrying on, "minding the gap" between the generations. The other is to help them believe in a future. Two simple choices. In an election like this, one that will set the path to greater or lesser Climate related destruction, retreating to our normal voting patterns isn't an option because countless young Canadian kids are becoming futilitarians. 
As assuredly as we've seen great devastation for those affected by wildfires, record heat waves, droughts and hurricane rains, so too will young peoples' struggles weigh very heavily on parents' and grandparents' hearts. When grandma realizes the hidden costs on their children and grandchildren, it may be too late. If this (now) is a Mental Health Crisis for kids, it comes down to "What can we do to help them (right now)"? If we do nothing then we're signalling that we're okay with their suffering a future of Climate regrets.
A Conservative named Churchill
It was 1965 and I was eight years old when Winston Churchill died. Lest we forget his famous words; "We shall fight in the fields and in the streets, we shall fight in the hills; we shall never surrender".  
To repeat his theme, there can be no doubt that there is a new global battle raging today. This time is different. Young people of all ages have been leading the charge. They are upset with older generations who seem complacent to tow their kids in aimless circles behind speedboats while in the midst of overwhelming scientific and anecdotal evidence.  Fight, flight or freeze?
As today's divisive factions ignore science, opposing the evidence of Climate Change and hurl rocks and death threats at Prime Ministers, I cannot help but make the connection to the ideologies the Allies fought against in WW2. The same factions even demonize children as they peacefully plead their case in the streets and in front of Canada's democratic institutions. Shame upon shame. It's embarrassing too.
Churchill rings again; "Democracy is the worst kind of government, except for all the others". 
We saw a global Allied mobilization for this social experiment called "democracy" in WW2. WW3 is against Carbon, a war for basic human and ecosystem rights to a livable, sustainable planet. In his new book, Seth Klein calls it "A Good War".
If we are at war, then these young Climate fighters are now our new deserving leaders. Clinging to the remnants of the early industrial era, our lobbied politicians and the system itself have together let kids and all of us down. If C.D. Howe figured it out, so can we.
Caring elders can lift underage youth from Climate despair by representing them (by Proxy) at the polls.  
Echoing Klein's "wartime response" idea, perhaps we can lift our kids in this and future elections, by an enlistment to help them by honouring their courage and commitment to a better Canada? It starts with an easy step. Reaching out to all parents, grandparents, family members and friends, to help, especially to help those who have no vote.
It seems callous and just wrong that these passionate, well-informed young Canadians' have no vote in what will be the biggest battle of their lives. So many youngsters wish they could vote for this one issue, and they simply cannot. I imagined Canada's aging generations finding enough late-life self-assurance, perhaps a little bravery, and some collective gut empathy to recognize underage youngsters, by proxy voting on their behalf. The result? A little bit of hope for KIDS and perhaps a good feeling for the proxies. Little risk. Big reward.
To help nudge any further skeptics, we Canadians' have a culture of honouring those we've sent to (and lost) in war. We recognize and memorialize their ultimate sacrifice. For examples we can look back at many underage Canadians', enlisting, fighting and dying in WW1 and WW2.  
Since Greta Thunberg inspired them, young people have awakened and in an allied response they quickly rose to join her. The battle to save the planet was everyone's. They may not be dying in a conventional war, but more and more will. Washington Post Feb 3, 2020  On Climate Despair "Everything we teach them, that science is a tool for understanding the world, that adults are protecting you, falls apart." 
If elders have gotten this far in this Mental Health calculation of Global Crisis, then they will know what to do next. Just as young Canadians knew they should mobilize in the war against fascism, elders MUST rise up quickly and vote. They must banish their partisan views, as they did as allies in WW2. Joining and supporting these young souls with the ultimate gesture of casting a vote on their behalf is important. WW2 cost 44,000 young Canadian lives. It will only cost an elder their vote.  
The failed Mental Health Party. The case for who "NOT" to vote for. 
Warning! For partisans, this may hurt.
Culminating with the Global Climate March on September 27, 2019, Canadians watched as kids, many under sixteen, collectively pleaded for politicians' help. In support of their outcry and holding these precious kids dearly, all parties marched with them, except for Conservatives. Ottawa Citizen – Sept 27, 2019: "Conservative leader Andrew Scheer wasn't marching anywhere, but said other Conservatives would be. A look at the Twitter feed of every local Conservative candidate found no mention of Friday's climate strike in Ottawa on any of them". That was an astounding, disconnecting rebuke of concerned kids. That act has further alienated many more of those already losing hope. Good work Mr. Scheer (and fellow Conservatives like Pierre Poilievre and others that failed to show).  
September 10th is World Suicide Prevention Day each year. We should know the 2021 election outcome is pivotal for young peoples' Mental Health (MH). By association, that means additional costs, including the unmentionable word "suicide". 
The Conservative Party has just-released their MH plan to much coverage. Some positive. Some negative. The ultimate negative for me is that Mr. O'Toole's plan fails to connect historic Conservative INACTION on Climate with the obvious and serious MH impacts outcome. This would not be an issue if he had put forward the best Climate plan. The best plan would be a policy backed plan, that was bolder and braver than other parties. Bold and brave like Churchill perhaps? Instead, Conservatives chose to "not show up for kids" in 2019, and it is Conservatives that again chose to overlook Eco-Anxiety in their Mental Health plan put forward for this 2021 federal election. Without an acknowledgment of Climate-induced-despair their MH plan is no more than a cooked up a recipe for more hopelessness.  
If people are worrying about the earth's and democracy's fragility, if kids are needing hope, then bringing young and older generations together on Climate (by proxy voting) is an opportunity to transfer the best Canadian values, like civic responsibility and selflessness, while boosting thousands of kids hopes for a better world.  
Voting "in trust" for these largely forgotten kids costs nothing. For some kids, it will mean everything. For both parties in this "social promise" transaction it can be a powerfully instructive, validating moment, a passing of the torch.  
And to further ease skepticism, elders should already understand growing up with existential fears, from world wars and nuclear weapons threats, to our shared rage after the recent COVID carnage in nursing homes. Can't we also find our rage against Climate INACTION?  Yes we can.
In this pivotal 2021 Election, "Please show up for kids." Show up, like you've done on November 11th each year, for the many who gave, and give their lives for young people's future, and their right to vote. Show up for those that marched peacefully and passionately. Show up for those that do not yet have the right to vote for an issue that will affect them, and their children. 
"Showing up" also means acceptance to change. Like it or not, that means accepting that the Carbon-based industrial era is dying and that we must urgently transform and transition to a cleaner future before it's well beyond our control.  
The physical and MH toll on youth should alone be enough of a compelling reason for ACTION in this election. The voting decision should be easy. The party presenting the strongest, most feasible, decisive plan for Climate ACTION should get our vote, period. Based on past performance on Climate, I think we know which party not to vote for. 
It's not about partisan politics anymore – it's about survival. It's about individual action. We are now at war, once again fighting our kids future. Let's make it a good war.